GARANTIE 2 ANS OFFERTE !
Si vous commandez ce produit directement sur notre site.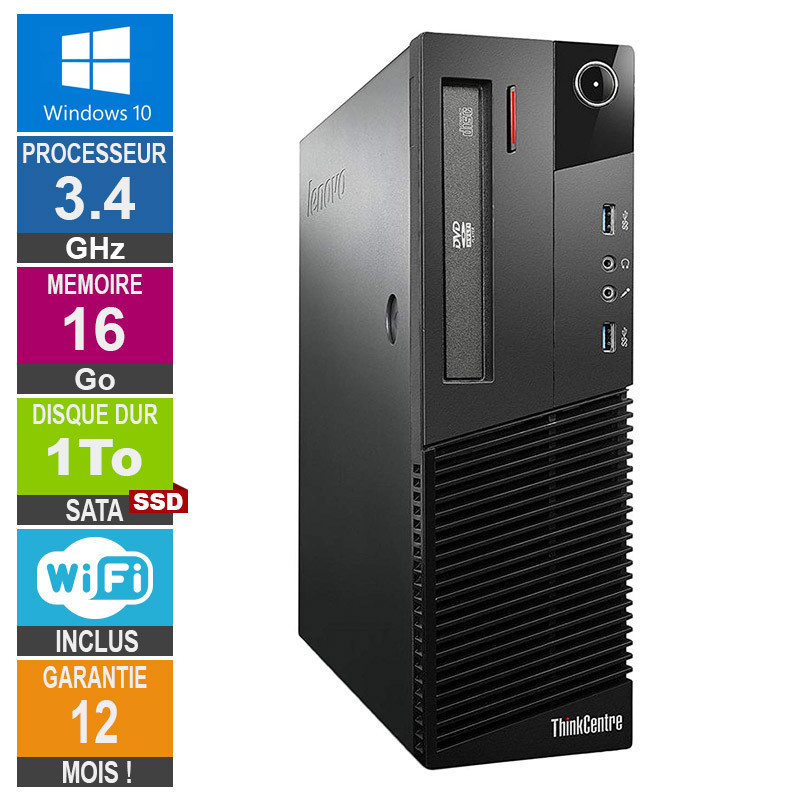  
PC Lenovo ThinkCentre M83 Core i5-4670S 3.10GHz 16GB/1TB SSD Wifi W10
Used PC Lenovo ThinkCentre M83 - Intel Core i5-4670S 3.10GHz - 16GB DDR3 - 1TB SSD - Microsoft Windows 10 Professional 64 bits - DVD Burner - Wifi adapter - Warranty = 1 Year
Our products are tested and perfectly protected.

Fast shipping in less than 24 hours!

You have a period of 14 days to change your mind.

Payez en 2, 3 ou 4 fois sans frais à partir de 100€ d'achats
Overview
The Desktop PC Lenovo ThinkCentre M83 is a rugged Slim (SFF) PC who can accompany you on all your advanced office and multimedia tasks.
Its contained size and low level of sound make it a discreet computer without sacrificing performances.
With its sober and elegant design this computer has everything to attract a wide audience.
Its versatile and powerful processor Intel Core i5 i5-4670S with a 3.10GHz frequency and 4 cores will be perfect to absorb the multiple tasks that you will entrust to him. It is equipped with 16GB of DDR3 memory and a 1TB hard drive to backup your datas.
With a wide connectivity (USB3, VGA, Display Port, COM, Ethernet, etc.) it will adapt without difficulty to the majority of your equipment.
Thanks to its operating system Microsoft Windows 10 Professional 64 bits, get the latest features, performance optimization and security.
Features
Processor : Intel Core i5 i5-4670S 3.10GHz (Turbo = 3.80GHz) - 4 Core - 4 Threads - Cache 6MB
Installed memory : 16GB DDR3 DIMM (Maximum allowed = 32GB)
RAM slots : 4
Hard drive : 1TB 2.5" SSD SATA (SSD technology for better performances)
Optical drive : DVD Burner
Front USB ports : 2x USB3
Rear USB ports : 4x USB2 2x USB3
Processor socket : FCLGA1150
Accepted card profile : Low profile
PCI-Express x16 ports : 1
PCI-Express x8 ports : 0
PCI-Express x4 ports : 1
PCI-Express x1 ports : 1
PCI ports : 0
SATA ports : 4
Firewire ports: 0
Printer ports (LPT1) : 0
Serial ports (COM) : 1
E-SATA ports : 0
PS/2 ports : 2
Audio outputs : 1x Front + 1x Rear
Audio inputs : 1x Front + 2x Rear
Chipset : Intel Q85
Ethernet controller : Intel I217-LM Gigabit Ethernet
Power supply : 240W maxi
Operating system : Microsoft Windows 10 Professional 64 bits
Size in cm (L x H x P) : 33.8 x 10.2 x 37.5
Weight : 7.8 Kg
The hardware is fully tested and refurbished by our experts.
Package content
- 1x Central Unit
- 1x AC cable
- 1x Wifi adapter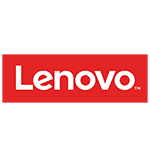 m83-10ahs0lh00-i5-4670S-16-1s-w10h
Data sheet
Warranty (Month)

12

Product condition

Very good

Processor (Speed GHz)

3.10

Computer (Model)

Lenovo ThinkCentre M83

Computer (Format)

Slim (SFF)

Computer (Use)

Advanced multimedia

Operating system

Microsoft Windows 10 Professional 64 bits

Processor (Brand)

Intel

Processor (Family)

Core i5

Processor (Model)

i5-4670S

Processor (Socket)

FCLGA1150

Processor (Nb Cores)

4

Processor (Nb Threads)

4

Processor (Turbo Speed GHz)

3.80

Processor (Bus speed)

DMI 5 GT/s

Processor (Cache MB)

6

Memory (GB)

16

Memory (Type)

DDR3

Memory (Format)

DIMM

Hard drive (Capacity GB)

1000

Hard drive (Format)

2.5 inch

Hard drive (Interface)

SATA

Hard drive (Type)

SSD

Optical drive

DVD Burner

Optical drive (Interface)

SATA

Ethernet (Speed Mbps)

1000

Power supply (Watt)

240

VGA ports

1

DisplayPort ports

2

USB 2 ports

4

USB 3 ports

4

Serial ports (RS-232)

1

PS/2 ports

2

Slots (Memory)

4

Slots (SATA)

4

Card profile

Low profile

Slots (PCI-Express x16)

1

Slots (PCI-Express x4)

1

Slots (PCI-Express x1)

1

Graphics card (Chipset)

Intel HD Graphics 4600