GARANTIE 2 ANS OFFERTE !
Si vous commandez ce produit directement sur notre site.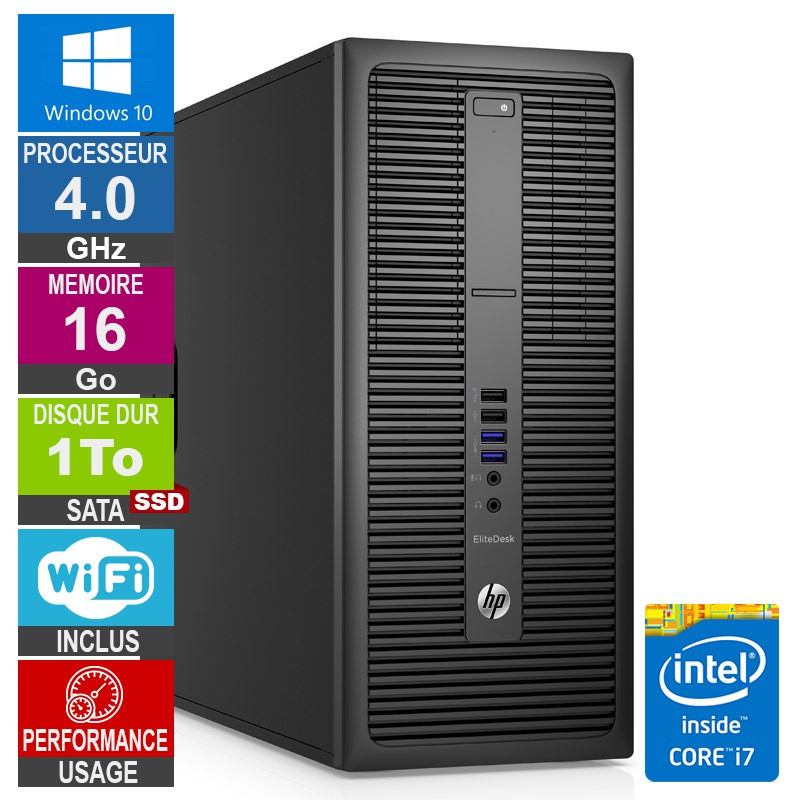  
PC HP EliteDesk 800 G2 TWR i7-6700 4GHz 16Go/1To SSD Wifi W10
PC reconditionné HP EliteDesk 800 G2 TWR - Intel i7-6700 3.40GHz (Turbo: 4GHz) - 16Go DDR4 - 1To SSD - Windows 10 Pro - Graveur DVD - Wifi
Our products are tested and perfectly protected.

Fast shipping in less than 24 hours!

You have a period of 14 days to change your mind.

Payez en 2, 3 ou 4 fois sans frais à partir de 100€ d'achats
Présentation
La PC de bureau HP modèle EliteDesk 800 G2 TWR est un PC de gamme professionnelle extrêmement fiable et performant au format Moyenne Tour. Il sera adapté à toutes les tâches bureautique et multimédia que vous pourez lui confier.
Son faible niveau sonore et son apparence sobre font de lui une machine discrète.
Dans cette déclinaison il est équipé du puissant processeur Intel Core i7 i7-6700 de 6ième génération qui est cadencé à 3.40 GHz (Turbo : 4.00 GHz) et disposant de 4 coeurs qui sera adapté aux tâches bureautiques et multimédia les plus gourmandes.
Il est ici livré avec 16Go de mémoire DDR4 et un disque dur de 1To pour stocker vos données.
Doté d'une connectivité complète (USB3, VGA, DisplayPort, PS/2, COM, Ethernet, etc.) il s'adaptera à tous les principaux équipements.
Grâce à son système d'exploitation Microsoft Windows 10 Professionnel 64 bits, bénéficiez des toutes dernières fonctionnalités, de l'optimisation des performances et d'une sécurité accrue.
Caractéristiques techniques
Processeur : Intel Core i7 i7-6700 3.40GHz (Turbo = 4.00GHz) - 4 Cœurs - 8 Threads - Cache 8Mo
Mémoire RAM installée : 16Go DDR4 DIMM (Maximum autorisé = 64Go)
Emplacements RAM : 4
Disque dur : 1To 2.5" SSD SATA (Technologie SSD offrant de bien meilleures performances)
Lecteur optique : Graveur DVD
Ports USB Façade : 2x USB2 + 2x USB3
Ports USB Arrière : 6x USB3
Ports VGA : 1
Ports DVI : 0
Ports HDMI : 0
DisplayPorts : 2
Socket processeur : FCLGA1151
Profil carte accepté : Profil long standard
Ports PCI-Express x16 : 1
Ports PCI-Express x8 : 0
Ports PCI-Express x4 : 1
Ports PCI-Express x1 : 2
Ports PCI : 0
Port SATA : 5
Port Firewire : 0
Port Imprimante (LPT1) : 0
Port COM (Série) : 1
Port e-SATA : 0
Port PS/2 : 2
Sorties audio : 1x Avant + 1x Arrière
Entrées audio : 1x Avant + 1x Arrière
Chipset : Intel Q170 PCH-H vPro
Réseau Ethernet : Intel I219LM Gigabit
Alimentation interne : 280W maxi
Système d'exploitation : Microsoft Windows 10 Professionnel 64 bits
Dimensions en cms (L x H x P) : 17 x 39 x 43
Poids : 10 Kg
Le matériel est entièrement testé et reconditionné par nos experts en interne.
Contenu du paquet
- 1x Unité centrale
- 1x Câble d'alimentation secteur
- 1x Adaptateur WIFI

800g2twr-i76700-16-1s-w10
Data sheet
Warranty (Month)

24

Product condition

Very good

Processor (Speed GHz)

3.40

Computer (Model)

HP EliteDesk 800 G2 TWR

Computer (Format)

Mid Tower

Computer (Use)

Advanced multimedia

Operating system

Microsoft Windows 10 Professional 64 bits

Processor (Brand)

Intel

Processor (Family)

Core i7

Processor (Model)

i7-6700

Processor (Socket)

FCLGA1151

Processor (Nb Cores)

4

Processor (Nb Threads)

8

Processor (Turbo Speed GHz)

4.00

Processor (Bus speed)

DMI 8 GT/s

Processor (Cache MB)

8

Memory (GB)

16

Memory (Type)

DDR4

Memory (Format)

DIMM

Hard drive (Capacity GB)

1000

Hard drive (Format)

2.5 inch

Hard drive (Interface)

SATA

Hard drive (Type)

SSD

Optical drive

DVD Burner

Optical drive (Interface)

SATA

Ethernet (Speed Mbps)

1000

Power supply (Watt)

280

VGA ports

1

DisplayPort ports

2

USB 2 ports

2

USB 3 ports

8

Serial ports (RS-232)

1

PS/2 ports

2

Slots (Memory)

4

Slots (SATA)

5

Card profile

Standard long profile

Slots (PCI-Express x16)

1

Slots (PCI-Express x4)

1

Slots (PCI-Express x1)

2

Graphics card (Chipset)

Intel HD 530

BMID

412324
Jean-claude M. published the 23/12/2020 following an order made on 17/12/2020
Appareil reconditionné conforme à ce qui était indiqué. Très bien emballé et livré en 48 heures. Le contenu est très exactement ce qui est indiqué, rien de plus. Pas de cordon d'alimentation par exemple mais une clé USB wifi (pas testée). Windows 10 installé nikel. le seul défaut de ce PC c'est le manque de puissance de l'alimentation. J'ai ajouté une carte graphique passive GT 730. C'est encore un peu faible. Je pense installé au final une Palit Kalmx 1650 passive. Je devrais arrivé à ce que je veux, c-à-d un PC puissant,silencieux et peu énergivore.
Comment from Little Phoenix the 22/12/2020
Bonjour, Sur ce PC vous pouvez mettre une GTX 1650 Super Mono ventilateur sans problème, tout est stable. Il vous faudra simplement un adaptateur SATA -> PCIe pour l'alimentation (nous en avons si besoin :-)). Merci de votre confiance, n'hésitez pas si besoin. Bien cordialement, L'Equipe Little Phoenix